Sunday June 6 2004 at 13:25 GMT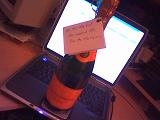 So,
we decided
to send Matt some Champagne to help him celebrate his marriage, and I agreed to organise it. Easy, right? America is online-land. Go to
wine.com
, select, pay and get the confirmation email. Well, yes, unless ... you're trying to
send the wine to an address in Maryland
(along with quite a few of the other 49 contiguous states; shipping to
Japan is easier
!)
To cut a long story short, BIG thanks are due to Eric Fullenbaum, and his parents who just so happen to live in Maryland. They personally purchased some fine Champagne and had it shipped over to Matt. As you can see, it arrived on time.
Comments
it was the very least we could do.
Hey, I'm glad to finally know who was behind the great Champagne airlift of '04. Thanks guys, Eric, and Eric's parents.
Powered by
thinkthin